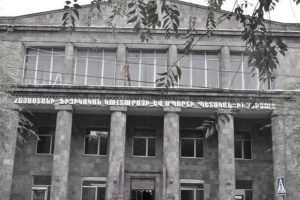 ● The «Armenian State Institute of Physical Culture and Sport» foundation (abbreviated - ASIPCS, former name - Armenian State Institute of Physical Culture) was founded on the 21st of July, 1945 by the decision of the ArmSSR People's Commissars Council.
● At the time of its establishment 26 lecturers were employed in 13 chairs of ASIPCS with the number of 114 students. In 1948 the first 42 graduates were qualified as physical education teachers.
● The first rector of the Institute was Hayk Parsadanyan, later Aghasi Charchoghlyan, Loris Kalashyan, Hrach Topalyan, Robert Galstyan and Vahram Arakelyan held that position. Since 2019 the institute has been headed by Davit Khitaryan.
● The Institute students and alumni took part in all the Artsakh wars.
● Our students and alumni are among Olympic champions having won 10 gold, 7 silver and 7 bronze medals.
● In 2015, the Institute organized and held the International Scientific Congress entitled "Olympic Sport - Sport for All", which was attended by physical culture and sports specialists throughout 20 countries as well as representatives from member HEIs of Eurasian Association of Pedagogical Universities.
● In 2016, the legal status of the Armenian State Institute of Physical Culture changed to the "Armenian State Institute of Physical Culture and Sport" foundation.
● The approximate number of students attending the Institute is 2500. We prepare physical education teachers, coaches in various sports, health improving and adaptive physical culture specialists, sports journalists, kinesiologists, sports psychologists, sports marketing managers.
● For specific merits in the development of wrestling, the Institute was awarded a diploma, the Golden Symbol Prize of "International Wrestling Federation". The Institute is also honored with the IOC and Olympic Academy's "Sport and Solidarity" prize.
● The Institute employs 4 doctors, 61 PhD of sciences, 12 professors and 53 associate professors.
● ASIPCS is a full member of the International Association of Universities of Physical Culture and Sport. The National Olympic Academy operates based at the Institute, it is deemed to be a member of International Olympic Academy. Since January 2020 NOA has also joined European Olympic Academy as a member.
● Since 2022 the "Sportus" college based at ASIPCS has commenced ensuring secondary professional and initial (vocational) education within 4 specializations: physical culture and sport, tourism, therapeutic massage and bodyguard.
● MISSION
The mission of ASIPCS is to provide competitive and qualified specialists in the field of physical culture, sport and sport serving fields, to promote the building and transfer of knowledge, the consistent development of the individual, the formation of human potential, the development and promotion of sport and physical culture in the region.
● VISION
ASIPCS claims to become the leading higher educational institution in the region, realizing educational and research activities, preparing specialists in the field of physical culture and sports, as well as specialists serving these areas.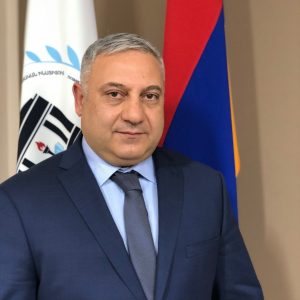 Davit Khitaryan, Ph.D in pedagogy, Professor
Professional Education
● 2019: Participation in the international workshop «The issues and challenges of educational system quality assurance»
● 2018: Participation in judo Europe Union referee and coach seminar
● 2017: Participation in judo coach seminar led by Valeri Dvuynikov
● 2016: Participation in judo coach seminar led by Alexandr Yatskevich
● 2015: Participation in judo coach seminar led by Andrey Shturbabin
● 2007: Participation in judo coach seminar led by Kazushi Kavaguchi
● 2000: Participation in coach seminar Italy
● 1990-1992: Yerevan State University, Faculty of social sciences, journalist, photo correspondent
● 1988-1992: Diploma of excellence with qualification of judo coach-pedagogue of Armenian State Institute of Physical Culture
● 1987-1988: ASSR Yerevan N 8 college
● 1977-1987: French school N48 after M. Manushyan
Working Experience
● 2021 January: Rector of the Armenian State Institute of Physical Culture and Sport
● 2019- 2021 January: Acting Rector of the Armenian State Institute of Physical Culture and Sport
● 2004- 2019: The head of the chair of physical education and sport of French University in Armenia, lecturer
● 01.04.2008-13.11.2008: «MIKA» sports complex, coach
● 2007- 2019: Coach in Olympic Child and Youth sport school of Sambo and Judo
● 01.03.2006-02.08.2006: The head of N1 sport school in Kanaker-Zeytun community
● 1999-2000: «Sevan» republican council  of rural sports community, senior coach of educational sport department
● 1999-2006: Coach in Olympic Child and Youth sport school of Sambo and Judo
● 1998-1999: RA national teams center,  judo coach
● 1998-1998: Olympic preparedness center,  judo coach
● 1996-1999: «Armenia» child and youth sport school Yerevan Judo-Sambo Olympic Reserve Sport School, coach
● 1992-2005: Lecturer, senior lecturer of subject Judo theory and methodology in the wrestling chair of Armenian State Institute of physical culture.
● 1991-1996: N2 sport school of Soviet period education department, coach, senior coach
● 1987-1988: Yerevan car factory, turner
Sporting Career
● 1980-1993: RA champion, prize winner of  All-Union Tournaments,  3rd Prize Winner of the USSR Student Team
Social Work
● 2017-up to now: The president of sport social organization «Kazakh Kuresh federation»
● 2013-2017: General secretary of Armenian judo federation
● 2010-2017: Vice president of Armenian judo federation
● 2003-up to now: President of Zeytun sport club
● 2005-2010: President of referee commission of Armenian judo federation
● 1995-2005: Senior coach of RA judo youth national team
● 1994-1995: Senior coach of RA judo women national team
Scientific Publications
● 1997-2020: Author of more than 12 scientific articles
● 2017: Author of «Judo» educational manual
● 2020: «About the issue of RA educational system governance models reprogramming», «Scientific Heritage» Hungarian  journal
● 2020: «About the continuous education of physical culture in Armenia» Slovak Scientific journal
● 2020: « Judo in teenagers' bullying preventive system», Journal «Physical culture and Sport»
● 2020: "Human Muscular Strength․ age, training effect, development methodology ", Monograph, Author's publication
● 2020: «The issues of sport and healthy lifestyle development in the Republic of Armenia», Scientific and methodical journal «Science in Sport: modern issues», N 1
● 2020: «The institute of physical culture as a smithy for preparing scientific pedagogical personnel in Armenia»  Scientific and methodical journal «Science in Sport: modern issues», N 2
● 2021: Grant project of RA MESC, Scientific Committee «Judo as bullying preventing model in pre-school and secondary school institutions» 2022 Grant Project to Cultural Grassroots provided by Japan Government for «Renovation of Judo and Karate Hall of Armenian State Institute of Physical Culture and Sport»
Titles & Awards
● 2021: Honored Doctor of Tajik Institute of Physical Culture Named by Saimumin Rahimov
● 2020: UFAR Medal of gratitude
● 2019: By 17.05.2019 decision of scientific council of French University in Armenia it was awarded title of professor on specialization Pedagogy. Approved by HQC protocol N 14, 22.07.2019
● 2019: By 29.11.2018 decision of scientific council of French University in Armenia it was awarded title of associate professor on specialization Pedagogy. Approved by HQC protocol N 2, 25.01.2019
● 2013: Black belt 5th dan
● 2012: Judo Olympic referee
● 2011: «RA armed forces 20 years» Jubilee medal
● 2006: Black belt 4th dan
● 2004: PhD of pedagogical sciences
● 2004: RA honored coach
● 2003: Judo international referee
Languages, Computer Skills & Preferences
● Foreign languages : French -average, English -average,  Russian -good
● Computer skills: MS Windows, Word, Excel, Access, Internet
● Other preferences: Hiking
● 1992-1993: Serving in RA MoD Internal Troops
Gagik Tsarukyan


● President of the National Olympic Committee of Armenia

Vahram Arakelyan


● Vice President of the National Olympic Committee of Armenia

Derenik Gabrielyan


● Vice President of the National Olympic Committee of Armenia

Milan Ercegan


● President of the International Wrestling Federation

Rafael Martineti


● President of the International Wrestling Federation

Joseph Blatter

● FIFA President

Egle Beshahold


● President of the Women's Athletics Federation

Tamas Ayan


● President of the World Weightlifting Federation

Wu Ching-kuo

● President of the World Boxing Federation

Gafur Rakhimov

● Vice President of the World Boxing Federation

Norayr Nurikyan

● Two-time Olympic champion

Roland Sharoyan

● Honored Worker of Physical Culture and Sports

Smbat Lputyan

● First Deputy President of the Chess Federation of Armenia

Igor Ter-Ovanesyan

● Multiple world record holder, five-time Olympic participant

Stepan Ghazaryan


● International sport figure

Yuri Vardanyan

● Multiple Olympic champion, record holder

Marina Bulatova

● President of the National Olympic Academy of Ukraine

Sergey Seiranov

● Rector of the Moscow State Academy of Physical Culture

Vladimir Mikhaliov


● Rector of Siberian State University of Physical Culture

David Waleshinsky

● President of the International Association of Olympic Historians

Kairat Zakiryanov

● President of National Academy of Physical Culture and Sport Universities

Evgeny Imas

● Rector of the National University of Physical Education and Sport of Ukraine

Eiji Taguchi

● Ambassador Extraordinary and Plenipotentiary of Japan to the Republic of Armenia

Levon Aronyan

● Three-time World Chess Olympiad champion

Armen Nazaryan

● Two-time Olympic champion

Sergei Bondarenko

● Midfielder of the legendary Ararat-73 football team

Shamil Tarpishchev

● President of the Russian Tennis Federation

Jong Bingshu

● President of the Capital University for Physical Culture and Sports, Professor
News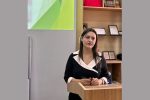 November 29, 2023
A seminar discussion on "The harmful effects of drug use, existing issues" was…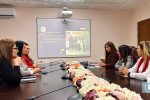 November 27, 2023
The delegation of the Armenian State Institute of Physical Culture and Sport representing…
Announcements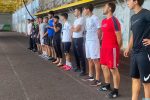 September 5, 2023
Dear students…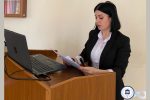 March 22, 2023
Satenik Khachatryan…